Posted in : Microsoft, Office 365, Teams By Oliwer Sundgren Translate with Google ⟶
1 year ago
Teams Room systems have been around for a while now, but organisations have started to use them more and more in order to provide a better hybrid meeting experience due to remote work and the "Work from anywhere" mindset.
That's great of course! But then one day, you enter the conference room and notice that the Teams Room system is not working correctly, you send a ticket to the helpdesk and they have to run to the conference room and troubleshoot.
Wouldn't it be great if you could monitor your Teams rooms and also get alerted when the room goes "offline"? Well then you've come to the right post, because that's what we'll be taking about right now 🙂
Monitoring:
Luckily the Teams Admin center gives us quite a lot of information on our Teams rooms and there connected devices. We can get information on such things as
Network Connectivity
Exchange / Teams connectivity
Meeting history and call quality reports
Remote restart and log collecting
Health of the device and peripherals (Computer, Camera, Microphones etc etc)
This information is great to have and is very important in order to troubleshoot and make sure that the rooms are functioning as expected. It's free and accessible directly from Teams Admin center!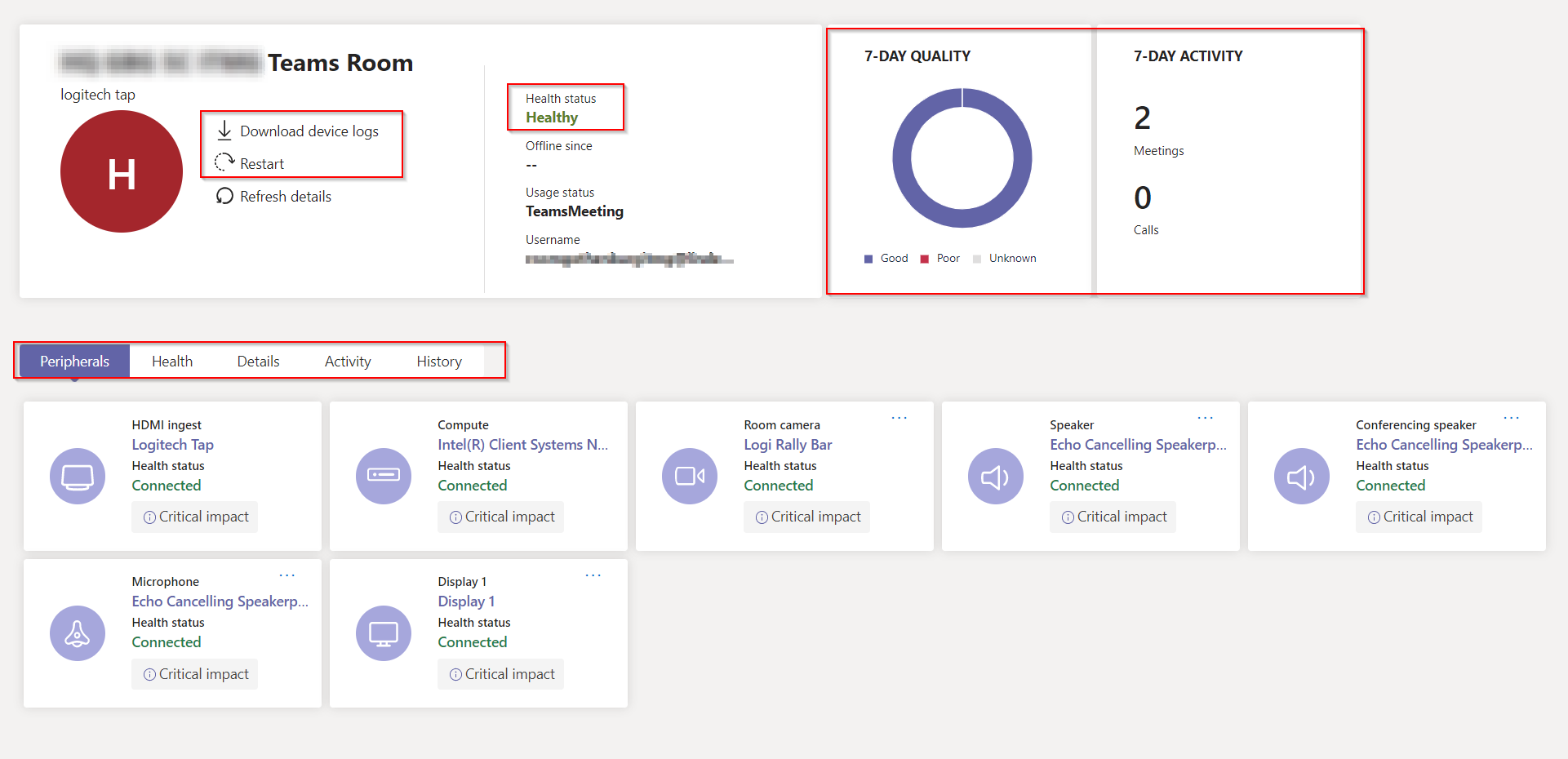 However, the information is there and we can see it, but how will we know when we actually need to go into the Admin center and look at the health of our rooms? We dont want to have this window open 24/7 and manually look. We want to get alerted when the rooms is unhealthy.
Alerts with Device State Rule:
In Teams admin center Microsoft has implemented a rule called "Device state rule" which, when enabled and configured, will Alert us when one of our Teams rooms health status goes from "Healthy" to "Unhealthy" in other words, when something is wrong with the room.
The rule is relatively new and therefore very simple, you don't have a lot of options as you see in the image below
Condition: this is not editable, it will only check on Device health status = Offline
Device Users: This is where you will add the rooms you want the rule to send alerts for
Actions: The only two actions you have available is to either send the alerts to a Teams channel like I've configured below. Or to use a webhook, which I wont cover here but that will give you more freedom to customize the alert itself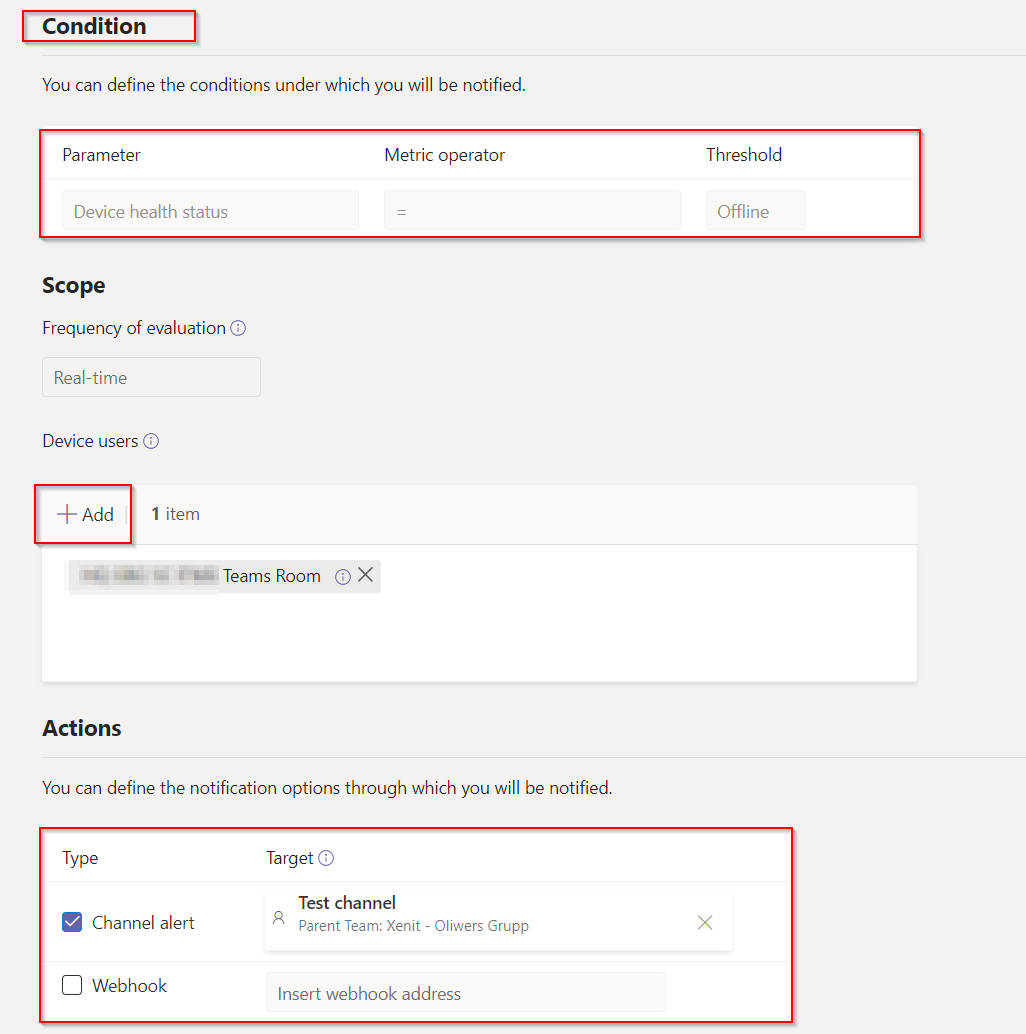 When the policy is enabled and a teams room ends up having a problem, the alert in Teams will look like this

As you can see, the alert itself is not that informative, but this will alert us that something is wrong with the room, and IT can then log into the Teams Admin center and start an investigation on what's the cause of the Alert, hopefully before any colleagues notice that the room has been out of order.
Summary:
Teams Admin center monitoring combined with the Device state rule is a very good feature in order for you to get a basic alerting function of your Teams Rooms.
This suits organizations that don't have many conference rooms or don't need any "fancy" monitoring and alerting function for their Teams rooms, but of course there are other third party options that may be better suited for other organizations.
If you want to know more about this, need assistance finding the right monitoring service for your teams rooms, feel free to reach out to me in the comments or via email!
Oliwer.Sundgren@xenit.se
Tags : How to, Microsoft, Microsoft Teams, Microsoft Teams Rooms, monitoring, Teams
Personlig rådgivning
Vi erbjuder personlig rådgivning med författaren för 1400 SEK per timme. Anmäl ditt intresse i här så återkommer vi så snart vi kan.