Posted in : Citrix, Teams, Virtual Apps and Desktops By Robert Skyllberg Translate with Google ⟶
3 years ago
Microsoft recently announced the official support of running Microsoft Teams on Virtualized Desktop Infrastructure (VDI). In addition to this, Citrix was announced as the single certified "Partner" for running Microsoft Teams on VDI, as the solution uniquely provides Audio/Video optimizations on (Citrix) Virtual Apps and Desktops. Microsoft and Citrix has lately worked rather closely to provide various integrations and possibilities on the subject VDI.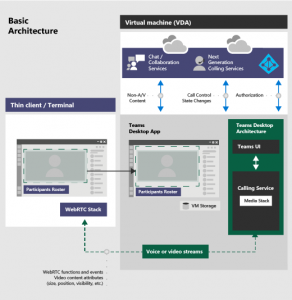 Deploying Teams should be done with the specific Teams MSI which offers two types of installations with both 32 and 64bit:
Per-user installation
This is the default installation, which installs Teams to the %AppData% user folder. At this point, the golden image setup is complete. Teams will not work properly with per-user installation on a non-persistent setup.
Per-machine installation
This installs Teams to the Program Files (x86) folder on a 64-bit operating system and to the Program Files folder on a 32-bit operating system. At this point, the golden image setup is complete. Installing Teams per-machine is required for non-persistent setups.
When setting up your non-persistent VDI-environment using "Per-machine installation" of Teams, don't forget to exclude the Teams-product when deploying your O365 ProPlus installation with Office deployment tool. You can read more about that here.
Working with Teams on VDI, Microsoft recommends excluding the following from the Teams caching folder, %appdata%/Microsoft/Teams in your profile caching solution. Excluding these help reduce the user caching size to further optimize your non-persistent setup. I'd say that's mostly applicable when using solutions like Citrix Profile Manager. When using profile managing like FSLogix, this does not have the same impact due to its solution. You can read more about FSLogix here.
.txt files
Media-stack folder
How great this might sound, there are a few restrictions of using Microsoft Teams on VDI versus your typical client-installation. These calling and meeting features are not supported:
Enhanced emergency services
HID buttons and LED controls between the Teams app and devices
Background blur and effects
Broadcast/live events
Location-Based Routing (LBR)
Call park
Call queue
If you have any questions regarding Microsoft Teams on Virtual Desktop Infrastructure, feel free to email me at robert.skyllberg@xenit.se or comment down below.
Tags :
Personlig rådgivning
Vi erbjuder personlig rådgivning med författaren för 1400 SEK per timme. Anmäl ditt intresse i här så återkommer vi så snart vi kan.